Since we started working with EnginZyme, we have found several areas where one of their solutions should outperform our existing methods and products. In the future, we could get rid of essentially all chemicals by making the switch to enzymes.
— Director at long-term partner and Fortune 500 company
The chemical industry faces a complex dilemma: chemical production is expected to quadruple by 2050 to meet the ever-increasing demand. Yet, the industry needs to reduce greenhouse gas emissions by more than half to meet sustainability goals. For modern society to function, we need to find ways to sustainably produce everything — from medicines to food products, flavourings, cosmetics, plastics and even fuel.
Current chemical manufacturing processes generate too much waste and use too much energy to be sustainable. Most chemical manufacturing involves petroleum feedstock and catalysis through lots of heat, pressure, and the use of metals. The heat created wastes energy, and the amount of physical waste produced from these processes is excessive, not to mention costly to dispose of.
Nature is much more efficient. That's why many green chemistry companies have biomimetic processes — they imitate what nature does. In the natural world, enzymes are the key catalysts that allow cells to create chemicals necessary for life. But using living cells for manufacturing chemicals or transforming products industrially can be a delicate, fickle process that requires a highly conditioned environment known as a bioreactor.
At EnginZyme, we create biomimetic processes, but instead of living cells, we use a patented process that allows us to use enzymes the way the traditional chemical industry uses catalysts — but under much gentler, less energy-intensive conditions.
At EnginZyme, we create biomimetic processes, but instead of living cells, we use a patented process that allows us to use enzymes the way the traditional chemical industry uses catalysts — but under much gentler, less energy-intensive conditions.
Enzyme immobilisation
Our cell-free biomanufacturing platform is enabled by a patented core technology based on enzyme immobilisation.
We create tailored, stable, solid biocatalysts that can foster multi-step enzymatic reactions, similar to what happens in nature. But our process does not require organisms or bioreactors — we create versatile biocatalysts in standard chemical industry fixed-bed reactors that can be used in continuous operation instead of in batches like with bioreactors.
Integrated solutions
EnginZyme provides integrated solutions, taking a broad approach beyond just designing biocatalysts. We listen to what our partners need and then work with them to engineer commercially viable bioprocesses for a range of applications.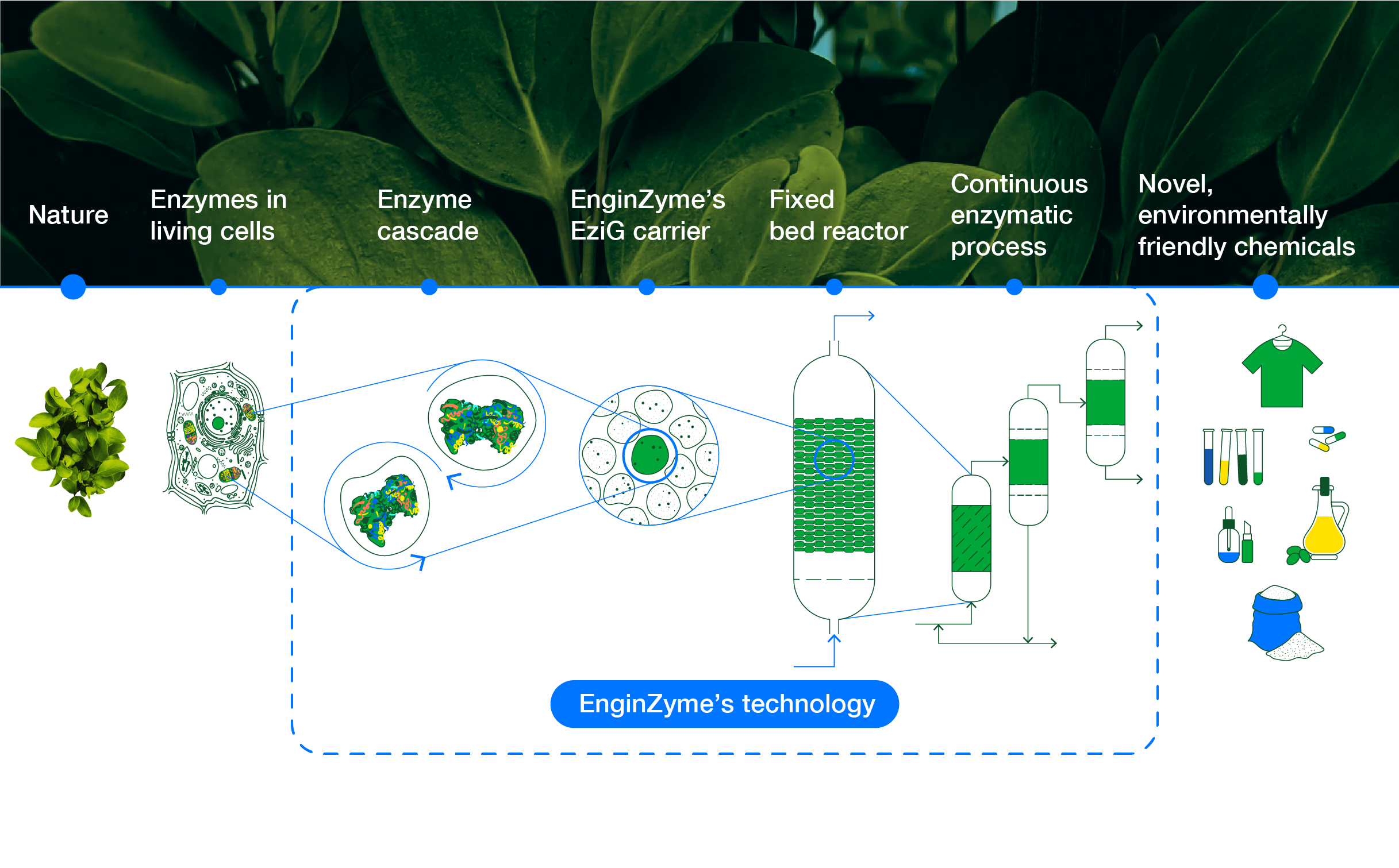 What we do
Stable heterogeneous multi-reaction catalysts
We combine a series of enzymes, a cascade, out of the cell and immobilise them on our proprietary technology EziG®. Through enzyme cascades, we can synthesise a broad range of products using complex reactions. When improving the enzymes, we focus on increasing the stability of the biological catalyst system, enabling extensive reusability in continuous operation. The cascades are immobilised on EziG, a universal solution that maintains full enzyme activity. The result is a heterogeneous catalyst similar to what is already well understood by the chemical industry.
Continuous flow operation
The development of stable, solid catalysts enables us to use our unique biocatalysts in continuous flow operation. This is standard within the industry for cost-efficient operation and enables easy and reliable production scale-up. Such continuous operation often adds inherent benefits such as higher throughput and increased quality with lower energy consumption.
Automated biocatalyst design
Automation is core to all activities at EnginZyme. EziG's inherent properties and the versatility of our solution allow the use of robotics and automation, high throughput screening, multifactorial analysis and machine learning. Because we can use automation to repurpose any biocatalyst, development is accelerated and can benefit from fast, repeatable results from multivariable screening.
Process engineering and scale-up
EnginZyme does much more than create high-performance catalysts. We evaluate and design a complete process from starting material to product, taking into account the reaction kinetics, purification modelling, economic evaluation and lab validation. The process engineering team works closely with the enzyme engineering and catalyst development teams to avoid unnecessary iterations and reach the most economical result. Designing with the final commercial product in mind streamlines scale-up and mitigates risk.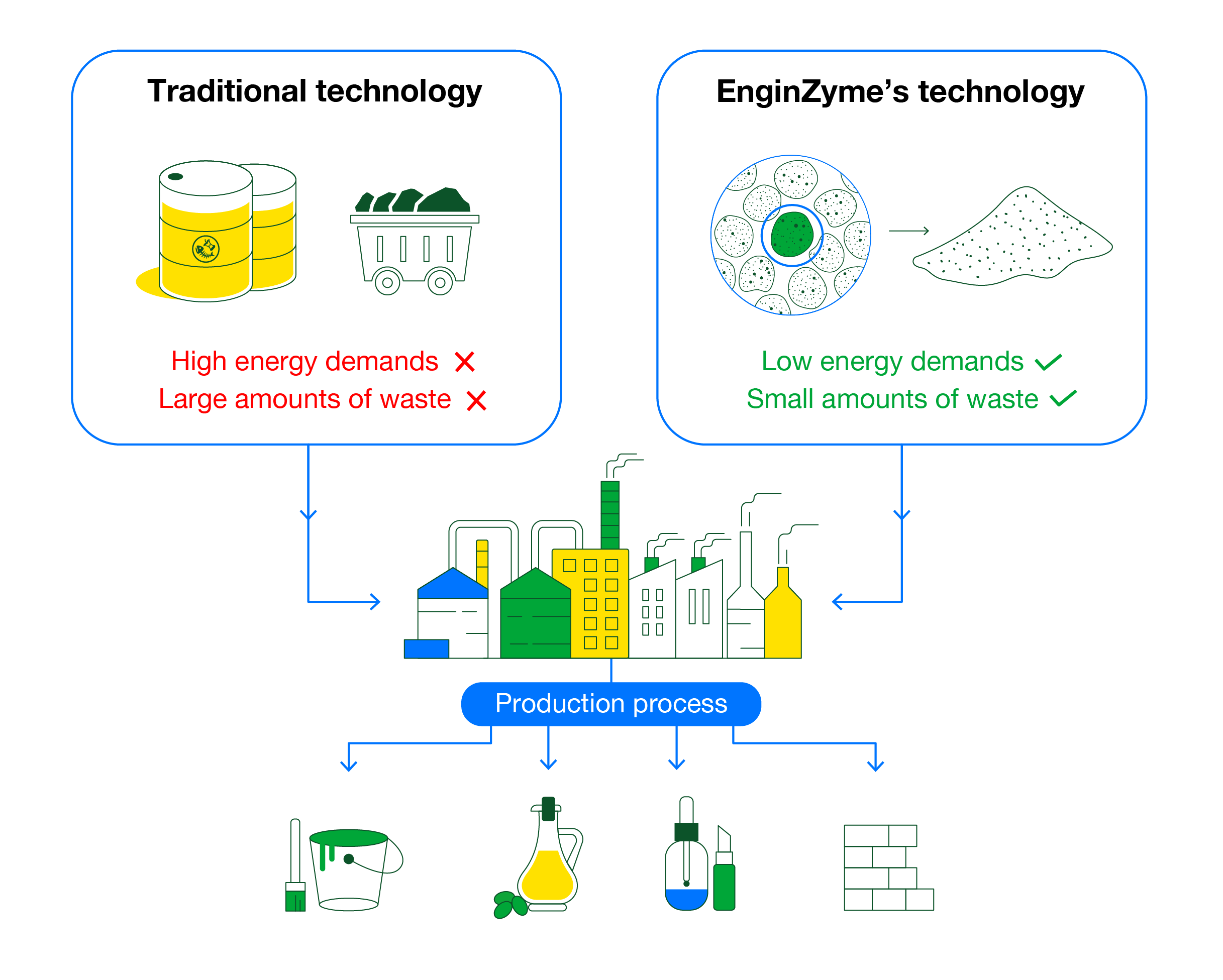 Markets we serve
Food ingredients
The food industry uses enzymes to produce most foods and beverages we consume daily. EnginZyme's technology can deliver novel, more cost-effective and sustainable processes. For example, whey side streams in yoghurt and cheese production can be upcycled into healthy ingredients, resulting in less waste that needs to be treated and disposed of.
A wide range of healthier products can be produced enzymatically, for example, rare natural sugars like kojibiose, a potent prebiotic with fewer calories than table sugar.
We strive for more scalable and sustainable processes to improve people's health by collaborating with a leading vegetable oil producer to produce healthier oils and fats thanks to our enzyme immobilisation expertise.
Cosmetics and personal care
The personal care industry has long been a forerunner in developing and using natural ingredients, delivering both product performance and benefits to the environment. With consumers becoming increasingly focused on sustainable ingredients with little or no negative impact on the environment, the need to further improve the industry's environmental footprint is at the very core for personal care companies. And while the industry has a legacy of using natural products, many personal care products still include petroleum-based ingredients. There is a pressing need to find bio-based alternatives to these ingredients.
By deploying its core enzyme technology, EnginZyme can help the personal care industry develop new, sustainable production processes and entirely new sustainable ingredients.
Pharmaceuticals
Biocatalysis has long been deployed for the manufacturing of various pharmaceutical compounds. Using its core technology platform, EnginZyme offers biocatalytic solutions for existing processes and raw materials. It can also develop entirely new processes that allow for the manufacturing of critical raw materials, like those needed for vaccine development and manufacturing.
Specialty and industrial chemicals
Some chemicals have been produced enzymatically for more than a decade with decreased environmental impact and improved economics compared to their chemical synthesis versions, for example, emollient esters such as myristyl myristate. The continuous evolution of EnginZyme's technology platform is giving the chemical industry more options to produce a wide range of chemicals, from base chemicals to specialty molecules.
Partnerships
Partnerships are at the very core of EnginZyme's strategy. We partner with industry leaders across markets and regions. Through our partners, we get necessary market insights that help guide us in our development programs, and through partnering, we mitigate market risk when bringing new biotechnology solutions to market.
Our partners gain access to our full technology offering, ranging from enzyme engineering to enzyme immobilisation to process engineering. We help them develop new-to-the-world biotechnology solutions that help transform industries.