As a World Economic Forum Technology Pioneer and part of the invitation-only Global Innovators Community of the world's most promising start-ups and scale-ups, EnginZyme recently took part in the WEF Annual Meeting 2022 in Davos, Switzerland.
In the first global in-person leadership event since the start of the Covid-19 pandemic, the Forum's Annual Meeting 2022 took place in Davos, Switzerland, under the theme, 'Working Together, Restoring Trust'. During the event, global leaders and experts weighed on various topics, ranging from the food crisis and climate change to the future of globalization and business.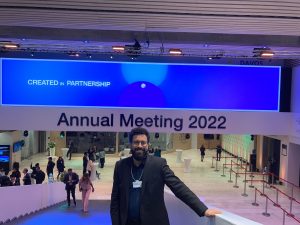 EnginZyme CEO and co-founder Karim Engelmark Cassimjee contributed to this year's WEF Annual Meeting on topics relating to the transformation that needs to take place in the chemical industry for transitioning toward net zero emissions – from the current situation of producing high amounts of waste and requiring high temperatures and pressures, to making use of biobased materials and securing future sustainable production of the products that modern society relies on. Especially relevant was to discuss EnginZyme's recent collaboration with Tetra Pak about bringing sustainable and economically sound solutions to the food and beverage industry. In the first project, the two Swedish companies aim to demonstrate the potential of enzyme technology to reduce waste streams and generate revenue from by-products.
Read more:
EnginZyme and Tetra Pak join forces to advance sustainable food & beverage production